North American Shin Godzilla Theatrical Run Extended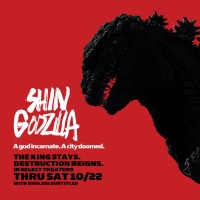 In the event you missed Shin Godzilla in theaters, or maybe there just wasn't a screening in your area, you may be interested to know that Funimation is extending the North American theatrical run of Shin Godzilla through October 27th. There are matinee screenings tomorrow, October 22nd in more than 200 theaters across the U.S. and Canada, and there will be daily screenings in select theaters through the 27th.
I went to see Shin Godzilla with some friends last week. It was pretty good. It reminded me a lot of episodes 1, 2, 5, and 6 of Evangelion. There's a lot of intertextuality between Shin Godzilla and Hideaki Anno's other works, not just Gainax/khara, but his other live action works as well. Definitely worth seeing if you're really into Eva or Anno in general.
Sources:
Tags: Godzilla