Anime Academy profile of Megumi Hayashibara
Author: Kain (Enthusiast)
Source: Anime Academy
Dated: ???
One of the reasons Hayashibara Megumi likes being an anime seiyuu is the relative anonymity that comes with the profession. See, she's really very shy and doesn't like to be recognized on the street, in the grocery or in a bookstore perusing manga.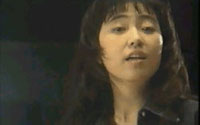 Megu-chan at the recording studio
If you're even a casual anime otaku, though, it's hard not to recognize her... at least by her voice. They don't call her the Queen of Seiyuu of the '90s for nothing. Due to her amazing vocal range and depth, she has portrayed everyone from little boys to little girls to old maids. All with gobs of gusto and feeling. And just when you think she's reached the limits of her potential, she goes out and releases popular songs on OSTs of her anime. The scary part is, she's not done yet.
Could you believe this anime legend was thisclose to not even becoming involved in the industry in the first place? A receptionist at the nursing school Hayashibara was attending was so rude that she had left the building frustrated. To escape her troubles, she entered a nearby bookstore and browsed through the manga selections. An article in one of the magazines talked about voice-acting school. Without giving it a second thought, she filled out an application and went about her business.

The mysterious Ayanami Rei
Hayashibara Megumi was born in Tokyo, Japan on March 30th, 1967. From childhood, she has nurtured a love of anime (particularly that of the mahou shoujo variety, or magic girl), and once believed that animated characters existed in real life. Wanting to become a voice actor herself, she was met with disapproval from her parents who believed that a career in the entertainment business offered no security.
Her big break came six months into her registered nurse career in Rumiko Takahashi's Maison Ikkoku. Their paths would cross again as Hayashibara was brought in to provide the voice of Saotome Ranma's girl half in Ranma ½. She was then asked to portray Lina Inverse in Slayers, arguably her most popular role to date.
Proving that she can play more than just raucous, opinionated personalities, Hayashibara made a huge impact on the anime community by voicing the soft-spoken Ayanami Rei in Neon Genesis Evangelion. Other notable works include Saeki Tomoko in DNA², Fujimiya Momiji in Blue Seed, Lime in Saber Marionette J, and Amano Ai in Video Girl Ai (my personal favorite). Her jack-of-all-trades vocal versatility puts her in high demand to sing many of the vocals featured throughout the anime she appears in.

The Lovable Lina Inverse
Despite a burgeoning singing career, her first love is and always will be voice acting. With newer, younger blood (most notably Horie Yui) nipping at her heels, some are asking whether our beloved seiyuu princess has peaked professionally. Perish the thought! Hayashibara is just hitting her stride, and there looks to be no letting up in the near future. She's not letting her recent marriage on her thirty-first birthday slow her down either, despite what seems like an increasingly hectic schedule.
"Voice acting is so versatile," she says. "I can portray all ages; that's the great thing about it! You can be anything! You can be an animal, a child, a sexy women, a little boy. No film actor could do work like this."
Production credits
3x3 Eyes - Pai, Sanjiyan
3x3 Eyes II: Legend of the Divine Demon - Ayanokoji Pai
Akihabara Dennou Gumi - Ootorii Tsubame
All Purpose Cultural Cat Girl Nuku Nuku - Natsume Atsuko, Nuku Nuku
Anpan-man - Komusubi Man
Ariel - Tomomi, Kazumi Kishida
Asagiri no Miko - Hieda Kurako
Bad Boys - Kumi
Bakuretsu Hunter - Tira Mis
Bishoujo Senshi Sailor Moon S: The Movie - Nayotake Himeko
Black Jack - Rie
Blue Seed - Fujimiya Momiji
Bounty Dog - Shoko Uzuki
Boys Be... - Chiharu
Bubblegum Crisis - Nam
Butchigiri - Nakamore Rui
Camelot of Love and Sword - Marina
Card Captor Sakura: The Movie - Madoushi
Chimpui - Eri
Christmas in January - Mizuki
City Hunter - Moriwaki Misuzu
Compiler - Megumi
Cowboy Bebop - Faye Valentine
Cowboy Bebop: Knockin' on Heaven's Door - Faye Valentine
Danasite 999.9 - Mello
Detective Conan - Haibara Ai, Sherry
Di Gi Charat: A Trip to the Planet - Pyoko
Di Gi Charat: Christmas Special - Pyoko
Di Gi Charat: Natsuyasumi Special - Pyoko
Di Gi Charat: Summer Special - Pyoko
Digital Devil - Kanou Fuyuki
DNA² - Saeki Tomoko
Dog of Flanders - Nero
Donkey Kong - Deedee Kong
Doraemon - Nonbi, Nobihiko, Bitano
Dragon League - Fam
Esper Mami - Shimazu Sanae
Fight! - Inbe Tsukinojou
Gadurin - Katherine
Gakusaver - Akijima Satomi
Garaga - Kina
Gouzaurar - Erika, Tachibana Hiromi
Granzort - Guriguri, Enuma
Guliver Boy - Steel Bat
Hello Kitty - Kitty
Hidari no O'Clock - Maki
Idol Tenshi Youkoso Yoko - Saki
Ienakiko Remi - Nelly
Izumo - Nabi
Jungle de Ikou - Ongo
Jungle Emperor - Leo
Junk Boy - n/a
Karimero - Jonathan
Lamune & 40 - Mountain Dew Gold
Laputa: Castle in the Sky - Captain Dola
Lost Universe - Canal Volfeed
Love Hina - Urashima Haruka
Love Hina Again - Urashima Haruka
Love Hina Christmas Special: Silent Eve - Urashima Haruka
Love Hina Spring Special: I Wish Your Deam - Urashima Haruka
Lupin III: Tokyo Crisis
Macross Plus - Lucy
Maison Ikkoku - Kindergarten Kid A, Nanao Yousuke, Nursery School Teacher B, Atsuko, Taro
Majutsushi Orphen Revenge - Esuperansa
Megazone 23 - Dominick
Minky Momo - Minky Momo
Mobile Police Patlabor - Sakurayama Momoko, Weather Forecaster
Mobile Suit Gundam 0080: War in the Pocket - Christina MacKenzie
Moeru! Oniisan - Kaede
Muteki Ou Tri-Zenon - Uryuu Kana
Nanatsu no Umi no Tico - Nanami Simpson
Nazca - Yuka
Neon Genesis Evangelion - Ayanami Rei, Pen Pen, Ikari Yui
Neon Genesis Evangelion: Death & Rebirth - Ayanami Rei
Neon Genesis Evangelion: End of Evangelion - Ayanami Rei
Ninku - Rihoko
Nori-P-chan - Nori-P
Osomatsu-kun - Todomaatsu
Oss! Karate-bu - Momochiyo
Pocket Monsters - Musashi, Pigeon, Fushigidane
Pom Poko - Sasuke
Project A-ko - Ume
Quack the Duck - Alfred
Queen Emeraldas - Umino Hiroshi
Raijin-Oh - Izumi Yuu, Falzebu, Himeki Ruruko
Ranma ½ - Saotome Ranma
Ranma ½: Big Trouble in Nekonron, China - Saotome Ranma
Ranma ½: Nihao My Concubine - Saotome Ranma
Ranma ½ OVAs - Saotome Ranma
Riding Bean - Carrie
Run! Meros - Clair
Saber Marionette J - Lime
Saber Marionette J Again - Lime
Saber Marionette J to X - Lime
Samurider - Yumiko
SD Gundam - Christina MacKenzie, Lala Sun
Shadow Skill - El Lag
Shaman King - Kyouyama Anna
Shounen Santa no Daibouken - Mary
Shurato - kid Shurato, Mii, Nara-Oh Renge, Yumiko
Slayers - Lina Inverse
Slayers Excellent - Lina Inverse
Slayers Gorgeous - Lina Inverse
Slayers Great - Lina Inverse
Slayers NEXT - Lina Inverse
Slayers Perfect - Lina Inverse
Slayers Premium - Lina Inverse
Slayers Return - Lina Inverse
Slayers Special - Lina Inverse
Slayers Try - Lina Inverse
SM Girls Saber Marionette R - Lime
Starship Girl Yamamoto Yohko - Midou Madoka
Starship Girl Yamamoto Yohko OVA - Midou Madoka
Takamaru - Yumega Arusaemon
Tekkaman Blade - Aki
Tenchi Muyo in Love - Achika
Tensai Bakabon - Bakabon
Vampire Hunter D: Bloodlust - Leila
Video Girl Ai - Amano Ai
Wataru - Himiko
Yawara! - Suzuki Takeyuki
Yu Yu Hakusho - young Genkai