Posted: November 3rd, 2015 by Aaron Clark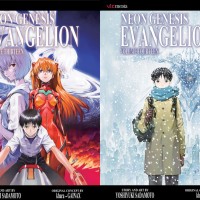 Viz announced yesterday on Twitter that they will be releasing a final volume of the Neon Genesis Evangelion Omnibus edition.  Slated June 2016, the omnibus volume will include the final two individual volumes of Yoshiyuki Sadamoto's Evangelion manga, volumes 13 & 14.  I anticipate there will be some bonus content produced to help pad out the final omnibus, perhaps not enough to approximate an entire ~175 page manga volume, but definitely something to add value to the release.
The omnibus, or "3 in 1" format was well timed, as many fans were previously finding it difficult to track down certain volumes of the manga.  However it was pointed out to me recently that the full run, including the elusive volume 9, was available on Amazon, so it would seem that Viz did a print run recently, possibly due to the release of the 14th and final volume.  So if you've been missing a volume or two, you may want to look into snagging some copies before they go out of print.