Posted: September 1st, 2016 by Aaron Clark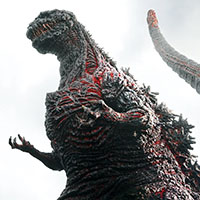 It may not be the long awaited conclusion to the Rebuild of Evangelion film series, however we will soon be seeing the North American release of Shin Godzilla, aka Godzilla Resurgence.  Fandango has revealed that Funimation will be releasing the film in a limited engagement October 11-18.  Fans have been compiling an unofficial list of dates from theater information.
Shin Godzilla is the first Toho produced Godzilla film in 12 years, and has grossed over 5.3 billion yen ($51.63 million), which is greater than Evangelion 3.0's box office earnings.  The film was co-directed by Hideaki Anno and Shinji Higuchi.  Anno wrote the film's script, Higuchi directed the visual effects, and Shiro Sagisu composed the film's soundtrack.
Reviews have thus far seemed positive, and the film has been performing very well in Japan.  Check listings, it may be a good means of filling the void between now and details for Evangelion 3.0 + 1.0.
Sources: