A Closer Look at the Tenth Anniversary Set.
By Aaron Clark on Wednesday, June 14th, 2006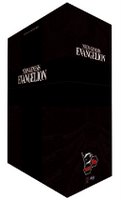 ICv2 posted some news concerning the 10th Anniversary Edition of Evangelion being released by ADV this August. Here's the short of it. This is a limited edition set, and once it's gone, it's gone. It will not be $250 as previously stated, it will in fact be $300. The jacket which I presumed was just a sleeve for the box is in fact an actual wearable jacket that you will mail away a card for with your size information. The box is said to include every Evangelion video extra ever made.
Now, I'm skeptical. When I hear something like this, I presume that it will include all that stuff from the Renewal set, such as the Alternate Live Action Sequence, Genesis 0:0, and so on and so forth, and with translation to top it all off. But, that's in a perfect world. And in the world I live in, that means a lot more self important ADV nonsense. I don't care to sit through another poorly executed special like The Mythology of Evangelion. Nor do I care to hear more about Tiffany Grant's perverse love of her anime alter-ego. I really don't. I've had enough of that, and I know I'm not alone on this one. The Evangelion fan community deserves something to make up for ADV Films bleeding it of every spare penny. As a dedicated Evangelion fan and collector, I know I can't afford this, but that doesn't change the fact that I want to get this. I just don't want to pay for it. Because I know, as soon as the set comes out, the video extras will get ripped by someone and be put up online. If I'm lucky, I'll remain broke for the next few months so that it will be completely infeasible for me to purchase this set.