FUNimation announces Evangelion 3.33 release date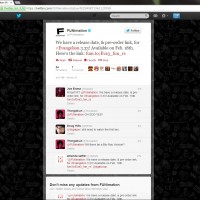 A little bit over a month ago, a product listing for Evangelion 3.33 with the date "February 18th" appeared on Wal-Mart's online store.  Several days ago a product listing with the same date appeared on RightStuf.  Then today the "Evangelion" facebook page announced the RightStuf date as being the official date (subject to change), with the Funimation Twitter corroborating it.  So now it's official, you can expect Evangelion 3.33 in North American theaters in January, and the home video release on February 18th.  However that may change, and it may even come out early, which I know was the case for the release of 1.01.
UPDATE: As of now (the morning of November 21) FUNimation has taken down or retracted all of their social media posts about the street date for Evangelion 3.33.