Evangelion ANIMA to be published in book form
By Aaron Clark on Monday, October 16th, 2017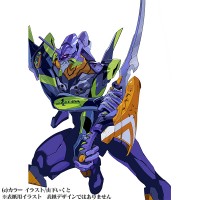 It was announced that Kadokawa will be releasing Evangelion ANIMA in book form on November 30th in Japan, to coincide with the 10th anniversary of the series.  Both volumes, Evangelion ANIMA 1 and Evangelion ANIMA 2, will be released the same day.
Evangelion ANIMA was a serialized light novel by series mecha designer Ikuto Yamashita that appeared in Dengeki Hobby Magazine from the January 2008 issue until 2013.  The light novel presented an alternate story line that branched off from episode 24 of the Neon Genesis Evangelion TV series, bypassing the original ending, as well as The End of Evangelion.  It featured events set several years after the original series, with various new and redesigned mecha.
There has been some interest in ANIMA within the fanbase over the years, however due to it being a light novel, as opposed to a manga, there was a greater language barrier, so much of the information available in English is limited and comes in the form of translated summaries and character bios.  Much of the information that is available in English has been collected on the Eva Geeks wiki.
Now that Evangelion ANIMA is receiving a collected release, the possibility of it receiving an official, English language version is much more hopeful.
Sources: